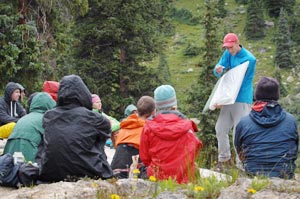 Colorado Mountain College's Outdoor Education Certificate offers a comprehensive series of back country travel and appreciation courses. Course work in the natural sciences, humanities, recreation and environmental appreciation are blended to provide opportunities for growth and challenge.
Students completing the program will receive an Outdoor Education Certificate of Completion. These courses are helpful for learning special skills or for concentrating your learning in a special area of interest. The Outdoor Education Certificate of Completion is not a Certificate of Occupational Proficiency; however, special emphasis has been given to designing the requirements so that courses count as credit for the Associate of Arts, Associate of Science or Associate of General studies degrees. These degrees are received for transfer by Colorado's public colleges and universities. They have been received by several other institutions as well.
Students must demonstrate acceptable proficiency levels in composition, reading, and mathematics as prerequisites for courses within this certificate. Skills in these areas may affect the sequence in which you can enroll and may also extend the time required to complete this program. For more details, please see the Academic Placement and Testing  section.
Students also have the option to transfer credits into the career-oriented Associate of Arts: Outdoor Education or the Associate of General Studies: Outdoor Recreation Leadership program.
The Outdoor Education Certificate of Completion is offered at Steamboat Springs, Aspen, Roaring Fork Campus, Leadville, Summit Campus, and Edwards.
Learn more about the Outdoor Education Program