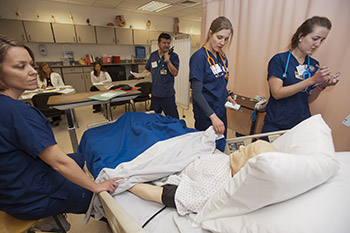 Students will develop skills to provide quality, safe, patient-centered care through evidence-based practice. Student learning focuses on the ability to develop and function as a competent nurse assimilating all professional, ethical, and legal roles of the professional nurse.
The primary roles of the associate degree registered nurse include: provider of care, manager of care, and member of the profession as well as advocate and teacher across a variety of health care systems. The design of the nursing program is a balance of general education and nursing knowledge to support the student's ability to develop and function in the role of professional nurse.
Students must demonstrate college-level proficiency in composition, reading, and mathematics through placement testing for acceptance into this program. Your proficiency may affect the sequence of courses in which you can enroll and may also extend the time required to complete the program.
This program has specific admission requirements. Admission criteria may change from year to year. Therefore, it is the student's responsibility to obtain the current year's admission packet. An admission packet can be obtained by downloading the form "Nursing Application" at the following web address: www.coloradomtn.edu/wp-content/uploads/filebase/applications-forms/admissions/CMC_AAS_Nursing_Application.pdf or by contacting Pre-Enrollment Services.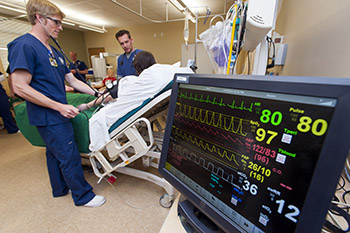 All applicants accepted into the Nursing program will receive a history and physical form that must be completed by his/her medical care provider before registering for classes. Accepted students will be required to obtain a criminal background check and are subject to periodical drug testing at various times throughout the Nursing program. These are requirements of our clinical sites. Fees associated with these requirements are the student's responsibility. Several scholarships may be available to assist nursing students. See the section on scholarships  and financial aid .
Graduates of this program will receive an Associate of Applied Science degree in Nursing and are eligible to apply to take the National Council Licensing Exam (NCLEX-RN) to obtain their RN licensure. The Associate Degree of Nursing at Colorado Mountain College is approved by the Colorado State Board of Nursing, 1560 Broadway, Suite 1350 Denver, CO 81601303-894-2430 and is accredited by the Accreditation Commission for Education in Nursing, Inc. (ACEN), 3343 Peachtree Road NE, Suite 850, Atlanta, GA 30326, ph. 404-975- 5000, fax 404-975 5020, www.acen.org.
To take courses with NUR prefixes students must be accepted into the nursing program and have permission of the Director of Nursing Education. Please consult with your adviser. 
The Associate of Applied Science Degree in Nursing (ADN) program is offered at Colorado Mountain College in Glenwood Springs-Spring Valley and Breckenridge.  CMC also offers a certificate in Nurse Aide  and a Bachelor of Science in Nursing (BSN) . Students who successfully complete the AAS degree are eligible to apply for the RN-BSN degree program .
Learn more about the Nursing Program