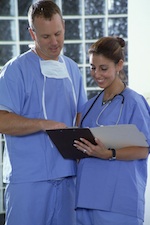 This program prepares individuals, under the supervision of office managers and other professionals, to perform routine administrative duties in a medical, clinical, or health care facility/system office environment. Includes instruction in general office skills, data processing, office equipment operation, principles of medical record-keeping and business regulations, medical/ clinical office procedures, and communication skills.
This certificate curriculum includes many of the courses included in the Associate of Applied Science degree in Medical Assistant  and credits may be applied toward that degree.
Students must demonstrate college-level proficiency in composition, reading, and mathematics as prerequisites for courses within this program. Skills in these areas may affect the sequence of courses in which students can enroll and may also extend the time required to complete this program. For more details, please see the Academic Placement and Testing  section.
In order to participate in the program, students must:
Provide proof of physical health exam with the Health History form, showing documentation of immunizations including Hepatitis B, Varicella (chicken pox) or proof of having had the disease, MMR, Influenza, and Tetanus.
A two-step TB test is required at least once per year prior to Internship or TB Gold test.
Have a current CPR HealthCare Provider certification prior to practicum
Provide proof of successful completion of a criminal background check prior to clinicals (form/instructions are included in clinic manual) and drug screen
Provide a signed Technical Abilities form (instructor will provide)
Provide a CMC Worker's Compensation form (instructor will provide)
Provide a signed CMC Liability Waiver (instructor will provide)
Successfully complete a 200 hour Internship
Graduates of the program will receive a Certificate of Occupational Proficiency in Medical Assistant.
The Certificate of Occupational Proficiency in Medical Assistant is offered at Colorado Mountain College in Edwards and online. All labs are held at the campus in Edwards, some courses are only offered online. Please see your advisor for a recommended sequence of courses. 
For federal student aid purposes, this program is defined as 45 credit hours and 45 weeks.
Learn more about the Medical Assistant Program