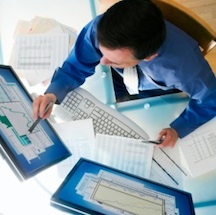 In one year, the Bookkeeper Certificate provides you with entry-level skills as an accounting clerk or bookkeeper. For a student who is currently employed, the certificate program provides an opportunity for job upgrading.
This certificate curriculum includes many of the courses included in the Associate of Applied Science degree in Professional Bookkeeper  and Registered Tax Preparer/Enrolled Agent Preparation  degrees, and credits may be applied toward those degrees.
Students must demonstrate college-level proficiency in composition, reading, and mathematics as prerequisites for courses within this program. Skills in these areas may affect the sequence of courses in which students can enroll and may also extend the time required to complete this program. For more details see Academic Placement and Testing  section.
NOTE: Students who intend to qualify to take the CPA exam and become credentialed should not register for ACC courses in this program. Please see the Bachelor of Science - Business Administration degree, Accounting Emphasis .
Graduates of the program will receive a Certificate of Occupational Proficiency: Bookkeeper.
The Bookkeeper Certificate is offered at all campuses, except Rifle, and through Colorado Mountain College online. The courses below fulfill the requirements of the Bookkeeper certificate. See your advisor to develop a personalized schedule.
For federal student aid purposes, this program is defined as 36 credit hours, 30 weeks on instruction and is financial aid eligible, pending approval.
Learn more about the Accounting Program.