2014-2015 Catalog
[ARCHIVED CATALOG]
Culinary: Sustainable Cuisine - Operations I Certificate
---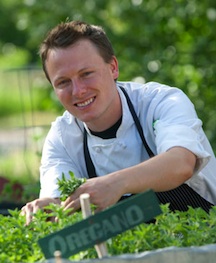 This certificate introduces students to the challenges and opportunities presented in the rapidly expanding segment of food service operations based on the dynamic principles of sustainability. Students will learn about food service sustainability issues, basic cooking skills, and the essentials for working in a successful sustainable food service operation.
The curriculum includes many courses included in the Associate of Applied Science in Culinary Arts  and the Associate of Applied Science in Sustainable Cuisine  and courses may be applied toward those degrees.
Students must demonstrate acceptable proficiency levels in reading, writing, and mathematics as prerequisites for courses within this certificate. Skills in this area may affect the sequence of courses in which students can enroll and may also extend the time required to complete this program. For more details see the Academic Placement and Testing  section.
Graduates of the program will receive a Certificate of Occupational Proficiency in Sustainable Cuisine Operations I.
The Sustainable Cuisine Operations I certificate is offered at Vail/Eagle-Valley Campus in Edwards.  Please see your adviser for a recommended sequence of courses.  For federal student aid purposes, this program is defined as 21 credit hours and 30 weeks.
Learn more about the Sustainable Cuisine Program