2013-2014 Catalog
[ARCHIVED CATALOG]
Culinary: Sustainable Cuisine - Operations II Professional Certificate
---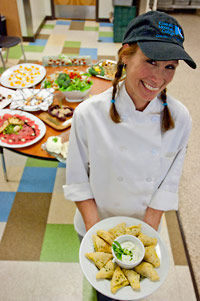 This certificate provides Culinary Arts professionals with additional skills that are essential for creating and running a successful sustainable food service operation. Students will learn about food service sustainability issues and how to implement cost-effective measures that will enhance your operation's environmental and social impacts while increasing profitability.
The curriculum includes courses included in the Associate of Applied Science in Sustainable Cuisine  and the Sustainable Cuisine Operations I  certificate and courses may be applied toward those programs.
Graduates of the program will receive a Certificate of Occupational Proficiency in Sustainable Cuisine Operations II: Professional.
The Sustainable Cuisine Operations II: Professional certificate is offered at Vail/Eagle-Valley Campus in Edwards.  Please see your adviser for a recommended sequence of courses. This certificate program is not eligible for federal student aid funds.
Learn more about the Sustainable Cuisine Program