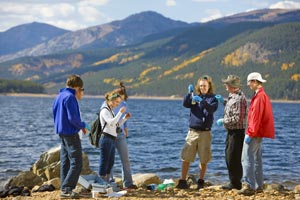 This program area is intended to serve students who wish to pursue environmental studies with an emphasis in the social sciences and humanities. The program is grounded in the theoretical framework of environmental studies and the three pillars of sustainability (equity, environmental, and economic) as defined by the United Nations General Assembly in 2005. Students will take a 60-credit (minimum) AA program with specific classes chosen from each department. The three pillars of sustainability are represented by the three required program courses: Environmental Ethics (PHI 218 ), Environmental Science (ENV 101 ), and Environmental Economics (ECO 245 ).
The program will prepare students to transfer into four-year environmental studies programs and, based on electives selected, specialize in a specific area of study such as environmental policy, resource economics, environmental anthropology, eco-psychology, environmental history, environmental education, or sustainability studies.  At CMC this program is a primary pathway to the Bachelor of Arts in Sustainability Studies  degree.
See the section on Scholarships and Awards  for scholarship opportunities related to this program. For a list of CMC campuses offering this program, please see the Where Our Programs are Offered  table. Not every course is offered on every campus.