2017-2018 Catalog
[ARCHIVED CATALOG]
Professional Photography (AAS)
---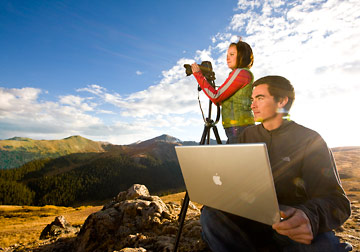 The Professional Photography program prepares graduates with the skills required for entry into a variety of professional photographic careers. Today's professional photographer must have a thorough knowledge of digital capture techniques for still and motion-based imagery, computer skills for digital imaging workflow and asset management, a strong sense of visual design and the ability to tell compelling stories with images and new media. First year curriculum consists of foundational training in the use of HDSLR cameras and lenses, digital capture, capture processing and workflow, mobile applications, natural and available lighting, aesthetics, and principles of design. In addition to advancing their personal vision, second year students learn new media storytelling, color theory and management, custom inkjet printing, studio and location lighting, portraiture and view camera techniques in our digitally-equipped studio. Elective courses allow students to explore a variety of topics including traditional film photography, alternative processes, photojournalism, field workshops, graphic design, web design, videography and other courses in the programs of the Isaacson School for New Media.
Photography is a field that requires a balance between technical expertise and visual aesthetics. The Professional Photography program recognizes this fact and has a curriculum designed to achieve this balance. All classes will challenge students to develop technical skills while creating compelling images that impact targeted audiences. This educational philosophy has led to numerous student awards, honors, career opportunities, internships, and recognition in the international College Photographer of the Year competition.
Graduates of the Professional Photography program have begun careers in the areas of editorial, portraiture, commercial, studio illustration, photojournalism, architectural photography, studio management, digital imaging service bureaus and as full time and independent photography assistants. A number of our graduates have extended their education in photography with transfers to four-year institutions offering bachelor degrees in photography and now, photography students can continue at Colorado Mountain College in pursuit of the Bachelor of Applied Science in Leadership and Management .
Students must demonstrate college-level proficiency in composition, reading, and mathematics to be accepted into this program. You must demonstrate these required skill proficiencies through either Accuplacer placement tests or acceptable ACT or SAT scores. A student's proficiency may affect the sequence of courses in which he/she can enroll and may also extend the time required to complete this program. For details, see the Academic Placement and Testing  section and a Colorado Mountain College adviser. Professional Photography courses have a specific sequence. Please consult with your advisor for a recommended sequence of courses.
A minimum grade of "C" is required in all PHO courses for graduation from the Professional Photography program.
This program has a fee that may be non-refundable. Please see the registration staff for more information.
The Professional Photography program is part of the Isaacson School for New Media which offers many scholarships to its students. In addition to these scholarships, there are also photography-specific scholarships including the Jonathan Wright Memorial Endowed Scholarship. See the scholarships  section for more information.
Graduates will receive an Associate of Applied Science Degree in Professional Photography. The Professional Photography program is offered at Colorado Mountain College in Glenwood Springs-Spring Valley.
The Isaacson School for New Media at Colorado Mountain College is devoted to preparing students to be competitive in the rapidly changing fields of photography, digital media and graphic design.  These three fields span the creative process from ideation, visualization, content creation, delivery, and promotion.  Our students are working together to tell media-rich stories across all three curricula.
Learn more about our Professional Photography Program and the Isaacson School of New Media.