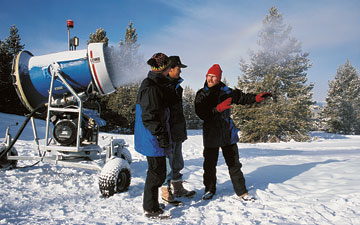 This program is designed to prepare the student for a career in the mountain resort industry. Technical and academic study in the classroom is combined with practical, on-the-job experience at Colorado's world-class mountain resorts to provide the skills and knowledge needed to succeed in the mountain resort industry.
Students must demonstrate college-level proficiency in reading, writing, and mathematics as prerequisites for courses within this degree. Students' proficiency may  affect the sequence of classes in which they can enroll and may also extend the time required to complete this program. For more details, please see the Academic Placement and Testing  section of the catalog or contact the Ski Area Operations faculty.
The Ski Area Operations program requires a minimum of 60 credit hours for graduation. Forty-nine of these credits are required courses described below. Of these 49 credits, 7 credits are earned during a paid, on the job, cooperative work experience. Typically, this work experience will occur during the 3rd and 4th semesters. For additional information concerning the work experience, contact a member of the SAO faculty.
The remaining 11 credits are chosen by the student to meet the student's individual career goals. The elective groups are: Slopes and Trails, Patrolling, Ropeway Operations and Maintenance, and Ski Resort Management. Students may choose electives from any individual or combination of elective groups. For details, see listing below.
To provide a four-year degree option, Colorado Mountain College and Western State College have signed an agreement that allows students in the Ski Area Operations degree to complete a Bachelor of Arts in Business Administration in Management.  Please consult with your adviser about requirements for this option.
Graduates will receive an Associate of Applied Science degree in Ski Area Operations.
The SAO program faculty will assist the student in the development of the student's individual schedule.
The Ski Area Operations degree program is based at Leadville. Some courses may be available at other CMC locations and as web-based courses.  CMC also offers certificates in Ropeway Maintenance Technician , Ski Patrol Operations , and Slope and Trail Maintenance .