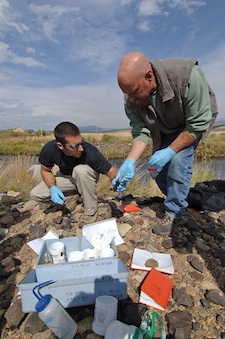 This degree provides graduates with entry-level skills in a variety of  environmental science fields. The degree combines aquatic and terrestrial resource management and characterization. Students will be trained in career fields of field monitoring, hydrology, soil science, environmental law, and others.
Graduates work in the areas of earth resources, geology, watershed science, geography, fishery and wildlife biology, forest sciences and forest biology/forest management, natural resource recreation and tourism including range land science and rang eland ecology, and waste management/hazardous materials. To provide four-year educational opportunities for students, Colorado Mountain College's Natural Resource Management program has signed transfer agreements with Mesa State College in Grand Junction and Western State College in Gunnison, Colorado. Please work with your adviser to meet the special requirements for each of these institutions.
The Natural Resource Management (NRM) program includes a summer internship, as well as the opportunity to work in environmental positions locally while completing the degree. The NRM program typically has work experience positions available during the academic year, as well as during the summer break.
Students must demonstrate college-level proficiency in reading, writing, and mathematics as prerequisites for courses within this program. Skills in these areas may affect the sequence of courses in which students can enroll and may also extend the time required to complete this program. For more details, please see the Academic Placement and Testing  section.
Graduates of the program will receive an Associate of Applied Science Degree in Natural Resource Management.
The Timberline Campus Endowed Scholarship may be available to assist Natural Resource Management students. For application information, see the scholarship  section.
The Associate of Applied Science Degree in Natural Resource Management is offered at Leadville.  CMC also offers a certificate in Field Technician .