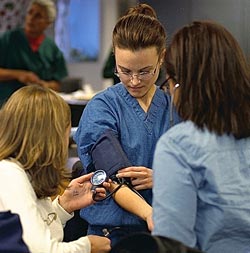 This program prepares individuals, under the supervision of office managers and other professionals, to perform routine administrative duties in a medical, clinical, or health care facility/system office environment. Includes instruction in general office skills, data processing, office equipment operation, principles of medical record-keeping and business regulations, medical/clinical office procedures, and communication skills.
Students must demonstrate college-level proficiency in reading, writing, and mathematics as prerequisites for courses within this program. Skills in these areas may affect the sequence of courses in which students can enroll and may also extend the time required to complete this program. For more details, please see the Academic Placement and Testing  section.
Graduates of the program will receive an Associate of Applied Science Degree in Medical Assistant.
The Associate of Applied Science Degree in Medical Assistant is offered at Edwards and through Online Learning.  Please see your adviser for a recommended sequence of courses.
CMC also offers a certificate in Medical Assistant .