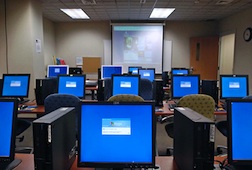 The A.A.S. degree and Certificates of Occupational Proficiency are designed to prepare students for an entry-level position in the Information Technology (IT) industry. Students pursuing this degree will receive training through classroom and hands-on activities to acquire the knowledge of how to build, maintain, secure, and troubleshoot PCs, servers, LANs, and WANs. Additionally, courses provide students with the necessary skills and preparation to pass specific IT industry certifications such as:
Comp TIA: A+, Net+, Security+, Server+
Microsoft Technology Associate (MTA): Networking Fundamentals, Security Fundamentals, Windows Server Administration Fundamentals
Cisco: CCNA
The A.A.S. degree combines required general education and specific IT program requirements. It also allows for 13 credits of advised electives, offering students the ability to take courses in their area of interest to meet their career goals.
Students must demonstrate college-level reading, writing, and mathematical skills as pre-requisites for courses within this program. Skills in these areas may affect the sequence of courses in which you can enroll and may also extend the time required to complete the program. For more details see the Academic Placement and Testing  section.
Graduates of the program earn an Associate of Applied Science Degree in Information Technology Specialist.
The A.A.S. Information Technology Specialist program is offered at Glenwood Springs. Please see your adviser for a recommended sequence of courses.  CMC also offers certificates in A+ Computer Technician , Cisco Certified Network Associate (CCNA) , Microsoft® Office Specialist , Network+ , Security + , and Server + .