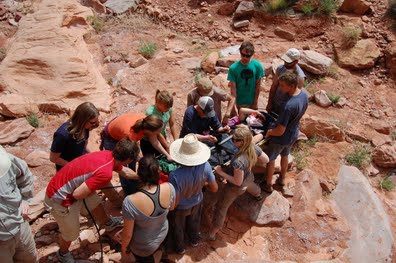 This  program prepares students to work with organizations such as the National Park Service, Bureau of Land Management, ecologists and foresters, guides, outdoor education counselors, search & rescue, and outfitters that require additional wilderness rescue knowledge and skills, along with pre-hospital training.
Wilderness medicine extends the topics commonly taught in Emergency Medical Technician programs. Wilderness medicine, in the context of emergencies, presumes that the ambulance or air ambulance is hours to days from arriving. This is a very real possibility when an injury occurs in the back country. Wilderness medicine also includes issues such as environmental injury from cold, heat, or high altitude; effects of toxic plants and animals; extended patient transport; improvisational equipment; extrication techniques; and other wilderness rescue techniques.
Students must hold and provide proof of a current Wilderness First Responder (WFR) certification or higher to enroll in the Alpine Rescue course (OUT 164 ) and a current EMT-B or higher certification, or RN license, to enroll in the Wilderness EMT  Upgrade course (EMS 162 ).
Graduates of the program will receive a Certificate of Occupational Proficiency in Wilderness Emergency Medical Services.
The Wilderness EMS Certificate is offered at the Summit campus. Please see your adviser for a recommended sequence of courses.
CMC also offers certificates in EMT-Basic , EMT-Intermediate , EMT-Paramedic  as well as an Associate of Applied Science in EMT Paramedic .