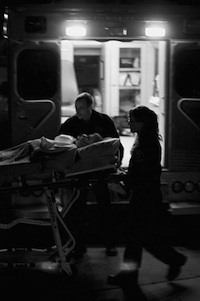 Emergency Medical Technician - Intermediate is an approved program that is designed to teach students how to deal with more complex medical and trauma emergency situations than are handled in the basic EMT course. Successful students develop proven advance life support skills which significantly improve the quality of pre-hospital care, such as advanced airway management, intravenous fluid and medication administration, ECG interpretation and management, use of defibrillators, pre-hospital medications, and advanced shock management.
The EMT-Intermediate certificate is designed to prepare students to take the National Registry of Emergency Medical Technician Intermediate certification examination. Additionally, students will be able to seamlessly move into CMC's EMT-Paramedic program. It is recommended that students considering the Paramedic program take Anatomy and Physiology I and II. Please see an adviser for more details.
Students must possess current Colorado or National Registry EMT-B Certification and must demonstrate college-level proficiency in reading, writing, and mathematics as prerequisites for courses within this certificate. Skills in these areas may affect the sequence of courses in which students can enroll and may also extend the time required to complete this program. For details see the Academic Placement and Testing  section.
Students must earn a "B" or better in the four EMT Intermediate courses (EMS 203 , EMS 205 , EMS 270 , and EMS 282 ) to receive a Colorado Mountain College Certificate of Occupational Proficiency.
The EMT-Intermediate certificate is offered at Roaring Fork, Summit, Steamboat Springs, and Buena Vista.  CMC also offers certificates in EMT-Basic , EMT-Paramedic , and Wilderness Emergency Medical Services  and well as an Associate of Applied Science in EMT Paramedic .