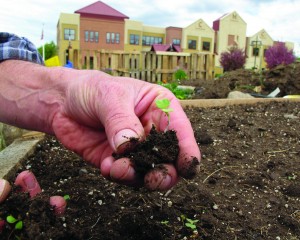 The certificate in Sustainable Food Systems is designed for students who want to specialize in growing sustainable food. In addition to learning about general issues encompassing sustainable cuisine, this certificate focuses on environmental science and agriculture. Students will learn how to grow food that is healthy for individuals, our communities and our planet. Students will gain skills to work as small farmers, gardeners, or consultants to food service operators eager to join the finest restaurants and hotels in growing all or part of the food used.
Students will have the opportunity for hands-on application of agricultural and environmental theories in three Agroecology courses. The Agroecology courses focus on the relationship between agriculture and the natural environment and thus are scheduled in accordance with the seasons: I, II and III are offered in the spring, summer and fall respectively. Although Food Politics, Policies and People is formally an agriculture course since most food policies concern agriculture, it covers a broad array of social impacts (health and nutrition, cost of food, employment, land and water use, use of GMOs, carbon food print, etc.) of food policies.
This certificate curriculum includes many of the courses included in the Associate of Applied Science degree in Sustainable Cuisine  and credits may be applied toward that degree.
Students must demonstrate acceptable proficiency levels in reading, writing, and mathematics as prerequisites for courses within this program. Skills in this area may affect the sequence of courses in which students can enroll and may also extend the time required to complete this program.
Graduates of the program receive a Certificate of Occupational Proficiency in Sustainable Food Systems
The Sustainable Cuisine program is offered at the Edwards campus.  Please see your advisor for a recommended sequence of courses.