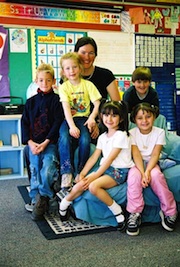 Colorado Mountain College and Colorado Mesa University have an articulation agreement that allows students to complete the AA-Elementary Education Emphasis requirements at CMC and then finish their last two years with additional courses offered by Colorado Mesa University.
What makes this option unique is that all instruction for the additional Colorado Mesa University coursework will be provided on-site at CMC's Roaring Fork Campus with CMU instructors utilizing face-to-face classroom instruction or interactive video conferencing.
This program also includes substantial experiential work in elementary school settings. Upon completion of the CMU portion of this program, students will graduate with a Bachelor of Arts degree in Liberal Arts and will be eligible for elementary education licensure in Colorado.
Students must demonstrate college-level proficiency in reading, writing, and mathematics before entering this program. Skills in these areas may affect the sequence of courses in which students can enroll and may also extend the time required to complete this program. For more details, see the Academic Placement and Testing  section. It is strongly suggested that students interested in this program work closely with an advisor at both CMC and CMU when formulating class schedules and for other advising purposes.
Students must apply separately for admission into Colorado Mesa University, as well as to the Center for Teaching Licensure at the start of the semester in which they will be completing at least 48 credit hours of the following schedule.