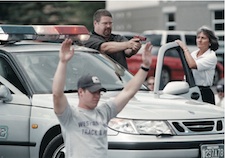 The Colorado Law Enforcement Training Academy includes the basic training and certification required for employment as a law enforcement officer in the state of Colorado. This program covers procedures, investigation techniques, laws and technical skills.
Colorado Mountain College will not accept LEA 106 , LEA 107 , or LEA 108  in transfer, and also will not accept challenge for these courses. To enroll in these courses you must be admitted to the Colorado Mountain College Academy, or be currently employed as a police officer in the state of Colorado, or have permission of the Academy Director. Students are responsible for all associated costs some of which are: CBI background check, and POST certification.
This program is academically challenging. Students must demonstrate proficiency in reading, writing, and mathematics at the 060 level. Skills in these areas may affect the sequence of courses in which students can enroll and may also extend the time required to complete this program. For details see the Academic Placement and Testing  section.
No person who has been convicted of a felony OR certain misdemeanor offenses may be certified to serve as a peace officer or reserve peace officer in the state of Colorado.
It is the responsibility of each applicant to determine their eligibility for certification prior to enrolling in this training program.
Graduates of the program will receive a Certificate of Occupational Proficiency in Colorado Law Enforcement Training Academy (CLETA).
CLETA training is offered at Glenwood Springs-Spring Valley Campus. CLETA is a POST-approved training academy.