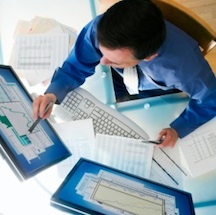 In one year, the Bookkeeper Certificate provides you with entry-level skills as an accounting clerk or bookkeeper. For a student who is currently employed, the certificate program provides an opportunity for job upgrading. This certificate will prepare students for the American Institute of Professional Bookkeepers (AIPB) certification.
This certificate curriculum includes many of the courses included in the Associate of Applied Science degree in Accounting  and credits may be applied toward that degree.
Students must demonstrate college-level proficiency in reading, writing and mathematics before entering this program. Skills in these areas may affect the sequence of courses in which students can enroll and may also extend the time required to complete this program. For more details see Academic Placement and Testing  section.
Graduates of the program will receive a Certificate of Occupational Proficiency: Bookkeeper.
The Bookkeeper Certificate is offered at all campuses and through Online Learning . Following is a suggested sequence of courses.  See your advisor to develop a personalized schedule.